Professional Performance. Proven reliability. Perfect for your boat!




Click

on the

Furuno logo to see the whole product line.

NEW

Furuno NavNet.. The Future of Marine Electronics!

Furuno USA, is proud to introduce an exciting new concept in marine electronics, NavNet. NavNet is the ultimate in marine electronics integration, offering the flexibility of networking that is commonly found in most professional office environments. The heart of Furuno's NavNet is its Ethernet based network. Using today's technology, NavNet runs on a 10-BaseT network, which means fast data transfer between equipment. NavNet's future expansion is limitless, because Ethernet offers the option to increase speeds from 10Mb per second all the way to 1 Gigabit per second.

New displays, networked in virtually any system configuration can designed.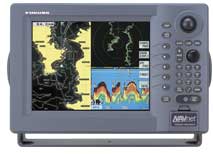 At Challenge Electronics, we can't say enough about Furuno. Our first choice for professional marine electronics and marine systems.
Ask the Pro's! 4 out of 5 commercial fisherman and professional mariners choose FURUNO.
You Know Furuno!